---
Ready to return to a FOMO-free life? Follow this guide on how to delete your Instagram account permanently
---
Instagram has grown into the cultural center of the social media world with nearly every celebrity and wanna-be influencer posting on the regular. It has grown to be a place where endless scrolling is the norm. The danger with Instagram is that posts often leave a trail of clues and with them, loads of personal data out in the open. Follow our guide on how to delete your Instagram account to clean up your digital footprint.
Maybe you are trying to clean up your past before a job interview or simply want to practice good digital hygiene. Whatever your reason for wanting to get rid of your Instagram account, we are here for you. The process of deleting Instagram is fairly straightforward, but interestingly there is a catch.
The vast majority of people use Instagram on their smartphones. It seems to have been built specifically for that reason, and there are features that aren't available on web browsers that are available on smartphones.
Interestingly enough, the only way one can delete their Instagram account is through a web browser. Why that is, is up for thought, but it definitely will stop users from deleting during a fit of rage when they see photos of their ex with a new man or woman in the middle of the night while scrolling via their iPhones.
So, maybe you aren't so sure…
OK, so you've decided you have had enough and are ready to find your computer, open a web browser and start the process of deleting yourself.
Although Instagram is owned by Facebook, there is a different process you must go through to delete yourself and your profile.
Instagram's tactic of dissuading would-be deleters via web browsers is similar to its parent company's. Facebook offers users a temporary deleting by disabling the account allowing users to come crawling back and revive their profiles and digital lives.
Instagram also offers users the ability to temporarily disable their accounts. If you temporarily disable your account, your photos, likes, comments and profile will not be available on the platform or be searchable to others.
If you want to save your data and old photos, you can do so before deleting your account. To do so via the Instagram App, login to your account, click settings followed by security and scroll down to Download Data.
How to disable your Instagram account:
Log in to your Instagram account on a web browser
Click the circular icon with your profile photo at the top right of the page
Select Settings
Click Temporarily disable my account at the bottom of the page
Follow the instructions and enter your password to temporarily disable your account
How to delete your Instagram account:
Log in to your Instagram account on a web browser
Select the reason you want to delete your account and click Permanently Delete My Account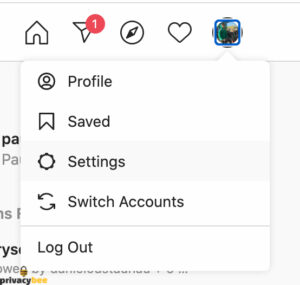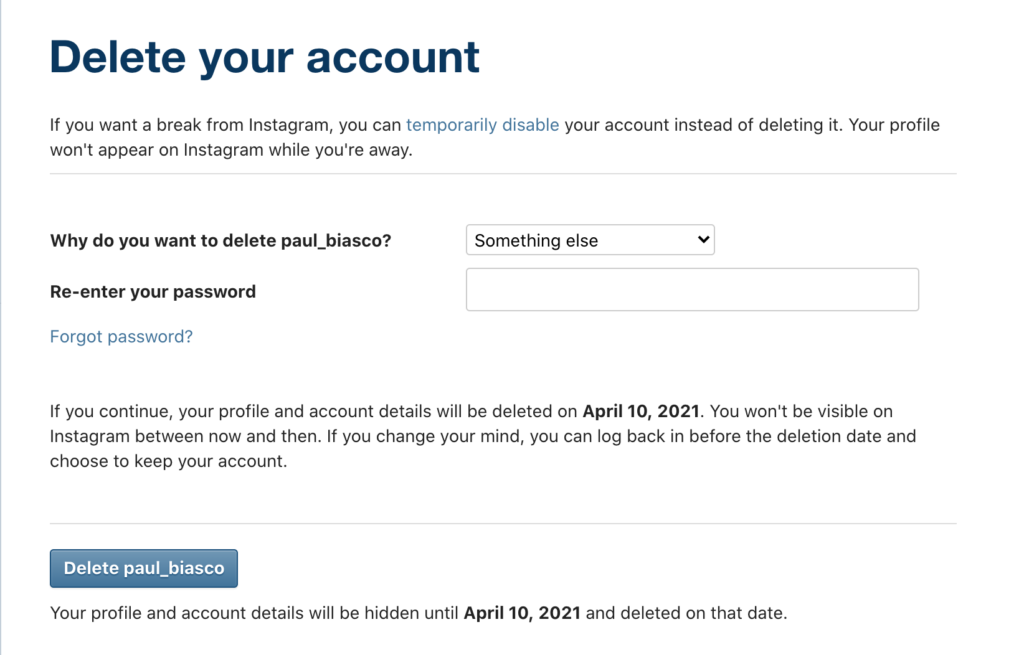 A future without social media
Congratulations on taking the big step of deleting yourself from Instagram (if you followed through…) Practicing good digital hygiene is more important than ever to protect yourself from data breaches, identity theft and cybercrime.
If you are truly dedicated to a safe digital life, follow Privacy Bee's guide to delete social media. You can also use these tips on how to remove yourself from the internet entirely.