---
There are nearly 80,000 data breaches and attacks every single day. The best privacy apps for Android reduce your risk of being involved in one of these annoying — and preventable — incidents.
---
Major incidents such as the Equifax hacks and the madness around Cambridge Analytica only further underscore how important it is to maintain data privacy. Without proper data hygiene practices, such as using the best privacy apps on your Android smartphone, your personal identity is at risk!
If you're not using Android privacy apps, your smartphone could make you a target for hackers. After all, it's the device that you have on you all the time and likely that you use the most. But, unlike desktops and laptops, many of us forget to clamp down on our digital habits our phones. We leave ourselves open to device fingerprinting, which allows marketers to create profiles of our behavior and know more than we know about ourselves!
Poor digital habits can also lead to identity theft, where hackers can use what they know about your online behavior to find points of weakness and steal your identity.
Here's the list of best privacy apps for Android phones.

ExpressVPN
A VPN app on your Android is a no-brainer to boost privacy. Not only does it hide your IP address while browsing but it also hides your browsing history from your Internet Services Provider. Moreover, a user can pretend to be sitting anywhere else by choosing the desired location. It keeps the encrypted users' data transmission from cyberattacks, and it also allows them to access geo-restricted content.
There are many free Android VPNs but we're partial to ExpressVPN. It consistently ranks at the top of the best VPNs list for Android, and it gives you a broad array of locations to choose from. You can mask your actual location by using any of the 160 server locations from 94 countries.
Pricing: There's a free version but it's quite limited. The premium version costs $12.95 per month, with an additional discount for paying annually.
Applock by SpSoft
Applock is one of the best privacy apps for Android, and PlayStore currently has tons of Applock apps. However, the most recommended one is Applock by SpSoft, which has great performance and customer support. It protects your Android smartphone from unauthorized access by providing an extra level of security.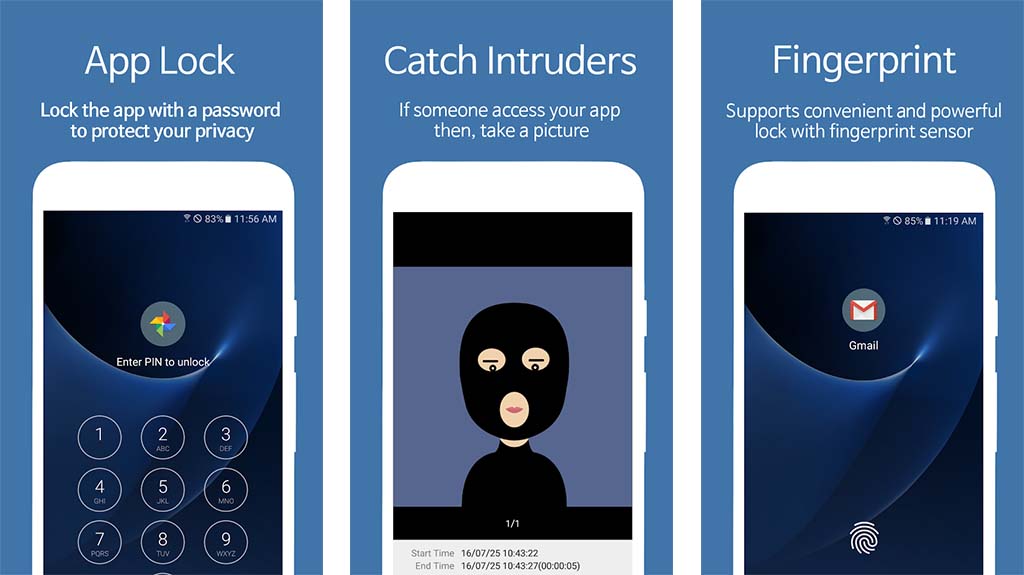 Most of the app lockers on PlayStore are free, and they offer a premium version as an in-app purchase for extra features. These features can range from ads-free experience to taking pictures of people trying to unlock smartphones, etcetera.
Pricing: Applock by SpSoft is free to install
Kyms
"Keep your media safe:" its right there in the name! Kyms is a private media fault that will hide your images behind a fake calculator. That way, people cannot just open your phone and gain access to everything stored on your phone.
The encrypted vault can also be your destination for any media that you download, keeping everything secure from the second it lands on your phone. But be careful: if you lose your phone, you'll lose your media! Theres no cloud syn here…which is precisely what keeps it so secure!
Pricing: Free
Bouncer
Even if your are a power user, properly setting all the permissions for each app can be a lot to navigate. It's not always necessarily easy to do and sometimes you may not want to always allow apps to access your location, photo gallery, or contact list for a certain app to access.
This is where Bouncer comes in handy: you can set a time limit for how long an app can have a specific permission. Bouncer automatically turns the permission off after that time. It's an easy way to prevent intrusive apps from getting too nosy!
Pricing: Bouncer starts at $2.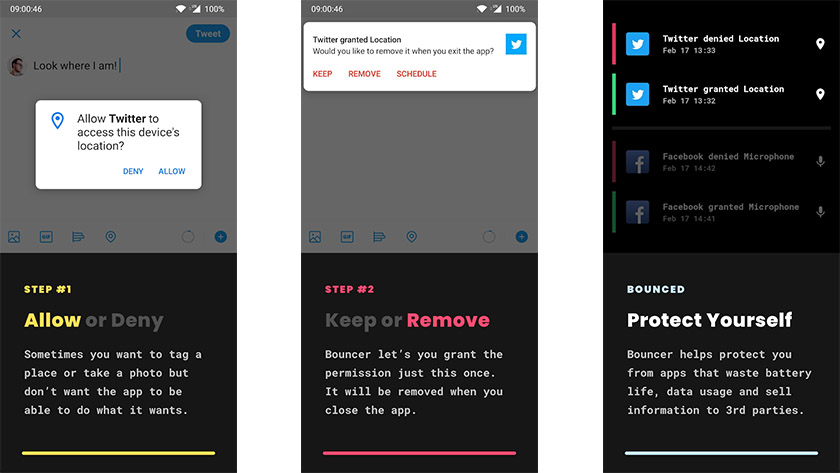 GlassWire
GlassWire allows you to monitor the usage of his/her data, which comes in handy while using metered data. You want to be able to see which apps are data hogs — which also allows you to monitor apps that may be using more data than they should. That's a sign of a potential hacked device!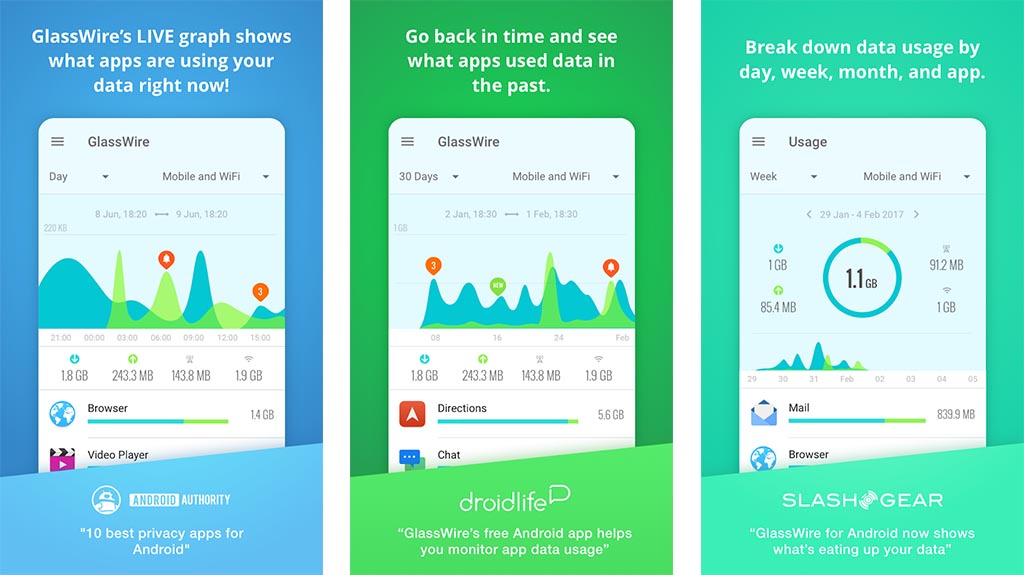 Using this information, you can remove all the apps using data more than they should, making them suspicious. Moreover, the apps also offer extended customization features of how you want to monitor his/her apps.
Pricing: GlassWire only costs $4.99 per year.
Signal
Signal is a reliable encrypted messaging app. At this level of encryption, no one can read your private messages even if someone gets access. There will only be a chunk of senseless characters with its intended receipt.
Beyond its encryption, Signal also preserves privacy by not storing any user records and offers a "two word" verification code So that you can be certain you're speaking to who you think you are. You can also set a lock code for your screen within the app itself. That means that no one can access your app, even if you leave your phone unlocked (or it gets jailbroken).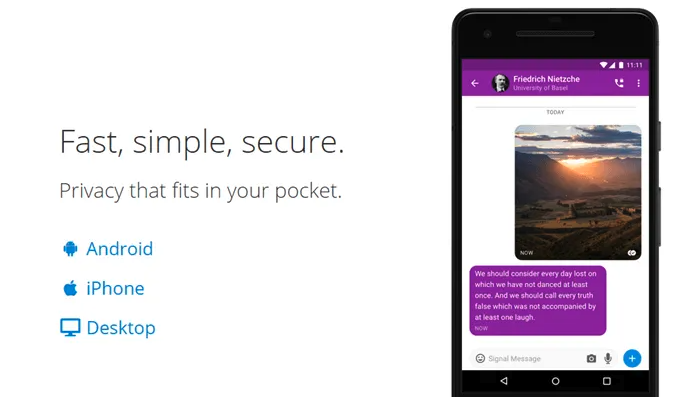 Pricing: Free
Firefox Focus + DuckDuckGo
For those that want to be more private while browsing on their Android smartphones, download Firefox Focus or DuckDuckGo.
These privacy-focused Android browser will help stop browser fingerprinting, as well as blocking pop-up ads and preventing third-party trackers from logging your behavior. Essentially, these browsers are your first line of defense when it comes to safely — and privately — using your Android smartphone!
We especially like the Privacy Grade from DuckDuckGo, which will give each site you visit a grade as far as how protected you are from invasive monitoring and creepy trackers.
Pricing: Free
ProtonMail
Free and open source means that advertisers wont be able to bid on access to your inbox! This keeps your data more secure and protects the privacy of your inbox. Because really — how creepy is it when you see an ad thats targeted to that email you just read?
ProtonMail is a one of the most secure email apps for Android. With strong encryption and a community-driven ethos, you can be certain that your privacy is fully in your control with ProtonMail.
Pricing: Free, and then paid accounts start at 5 Euros a month. All revenue goes to further develop the product, as its purely non-commercial and community supported.
Access Dots
This app prevents sneaky apps from accessing your phones microphone and camera without you knowing. Access Dots is easy to set up and will show small dots to reveal apps using your mic and camera.
Pricing: Freemium