---
Follow our guide on how to delete your LinkedIn account permanently in order to clean up your personal data from the internet.
---
LinkedIn has grown into a one-stop-shop for job hunters, resume builders and employers who are looking for the perfect candidates. If you are over the job hunt or are simply looking to delete as much of your personal information from the internet as possible, follow these steps on how to delete your LinkedIn account.
In a way, the wealth of information that LinkedIn users voluntarily share is precisely what makes it dangerous. Most users of LinkedIn share more personal and professional information on the service than they do on other social media platforms because they need to in order to take full advantage of job prospects. To land a job, users want to share where they went to college, where they live, their past employers and often telephone number and email contacts.
While the company has apparently cleaned up its privacy act lately, it was the victim of a major data breach in 2012. It wasn't until four years later that it became clear how major the breach was when a hacker claimed to be selling 117 million credentials stolen during the breach. In all, 167 million credentials including emails, passwords and member IDs were stolen.
Use Privacy Bee's email scan to check if you were part of the LinkedIn data breach or any others.
Don't worry if you are concerned about losing all of your connections, messages and leads over the years. LinkedIn allowed users to download a copy of their own data at any time.
LinkedIn also gives users the ability to "hibernate" their accounts if they wish to temporarily deactivate their accounts. Doing so will temporarily hide the profile and activity, but not permanently close the account.
How to make a copy of LinkedIn Data
To make a copy of your LinkedIn data before deleting or closing your LinkedIn account, follow these steps.
First, from a desktop browser, open LinkedIn.com and click the Me button at the top right of the homepage.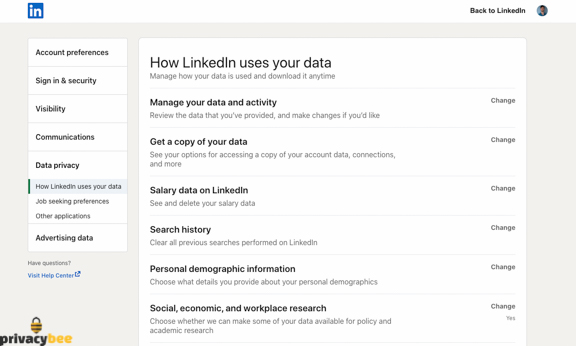 Next, click on Settings & Privacy and select Get a copy of your data.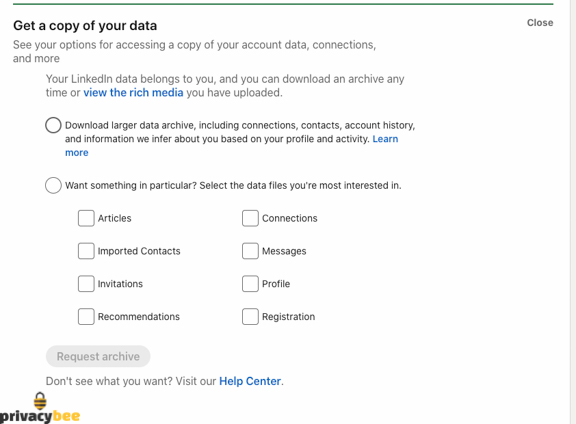 At this point you can select either all of your data or you can select particular files such as articles, invitations, connections and messages.
How to delete your LinkedIn account:
OK, so now that you have made a backup file of anything that you wanted to keep, it's time to take the steps to close your LinkedIn account.
Log in to LinkedIn on a web browser
Click the Me button at the top right of the homepage
Choose Settings & Privacy
Select Profile information from the left sidebar
Scroll to the bottom of the page and click Close account
Follow the steps to close your account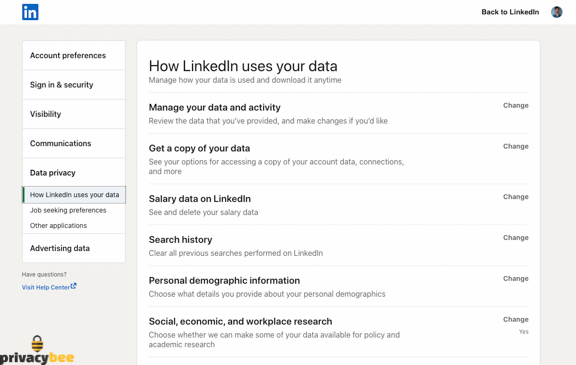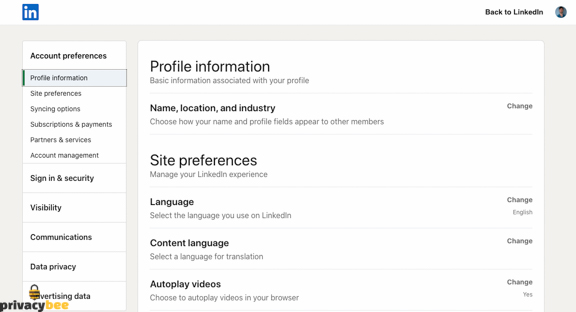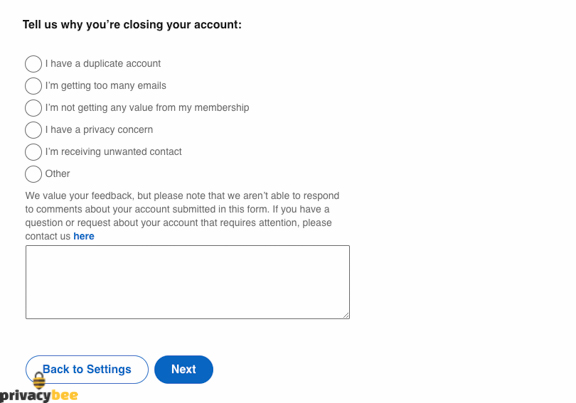 Final notes on deleting Twitter and social media
LinkedIn has a backup system that will allow users who change their mind 14 days to reactive their accounts. If you do reactive your account during that two week period, you will lose still lose any endorsements and recommendations, ignored or pending invitations, followings (influencers, companies, etc.) and group memberships.
Deleting your LinkedIn account is a necessary step in the process of deleting all of your social media for a digital detox.
The next step in taking back control of your privacy is to remove your name from Internet search engines. To go a step further, you can learn how to delete yourself from the internet. This will reduce your exposure to data breaches, hacks and the possibility of identity theft.