---
The United States has the dubious honor of being the world's most breached country. And we have the largest data brokers in America to blame!
---
For a population of 326 million, we had 6 billion personal records hacked, leaked or stolen in 2019. That's 19 per person! The fact that we have some of the largest data brokers in the world plays a huge role in this.

In America, we have commercialized personal data. By offering "free" services where the user is the product, we've nurtured an industry that's worth billions.
Many of us aren't even clear about what data brokers do and how they impact our day-to-day lives. We have so much data floating around, much of which is being bought and sold by data brokers. These companies package and resell data, making it incredibly difficult to stop once it's out of the bag.
The largest data brokers can make billions selling data, often without the owners' express permission. That's because so many of us don't read what we agree to when we click "accept" on privacy policies and cookie consent opt-ins.
Just look at this graphic that shows the breadth and reach of the commercial digital tracking and data profiling industry (outer bubble) and the consumer data and analytics industry (inner gray bubble). It's insane how much visibility these companies have into our everyday lives!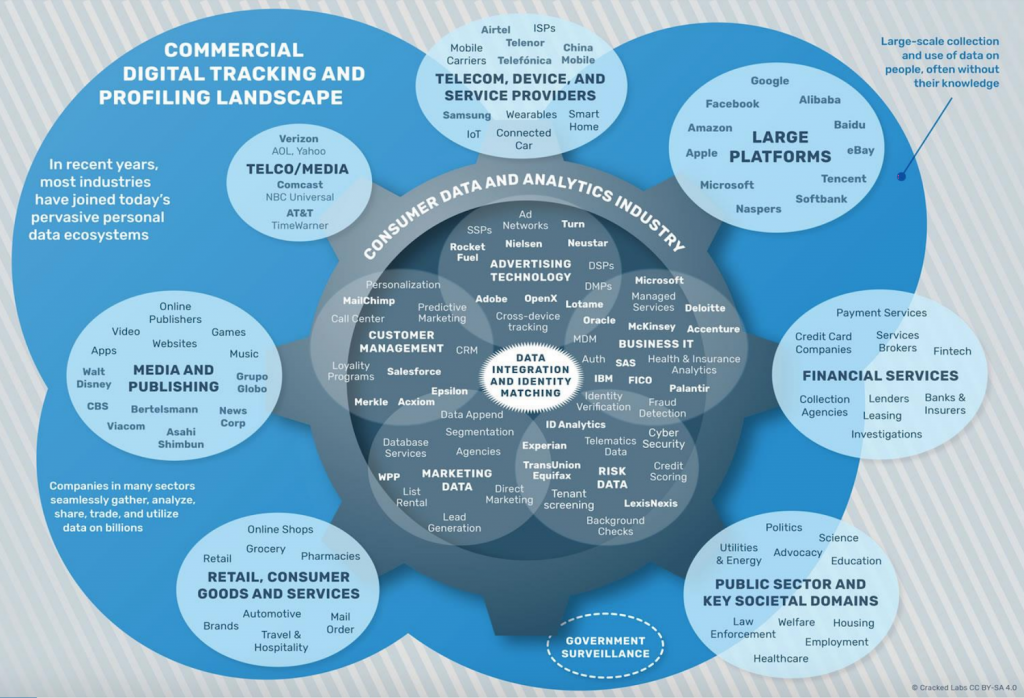 Who are the largest data brokers?
So who are these data brokers? They may operate in the shadows of our data but they're certainly large enough to shine the light on too. Here are the largest data brokers operating in the USA, along with links to opt-out of their data sharing.
And, when you're ready to protect your personal data from the prying eyes of data brokers, check out our complete guide on how to remove yourself from data broker sites.
If you decide to do this manually, remember that there are always additional steps once you click submit! Be sure to follow the instructions in any follow-up emails or snail mail. Otherwise, your personal info remains in the data broker database!
Is your personal information in the wrong hands? Use Privacy Bee's free Data Breach Checker to find out.
Acxiom LLC
Acxiom is one of the leading global data brokers. As one of the largest data brokers, this company offers data across 62 countries and 2.5 billion consumers. This is about 68% of the world's internet population. They collect comprehensive global data to connect market technology with advertising execution. And that means they know so much about you, as this graphic eerily explains: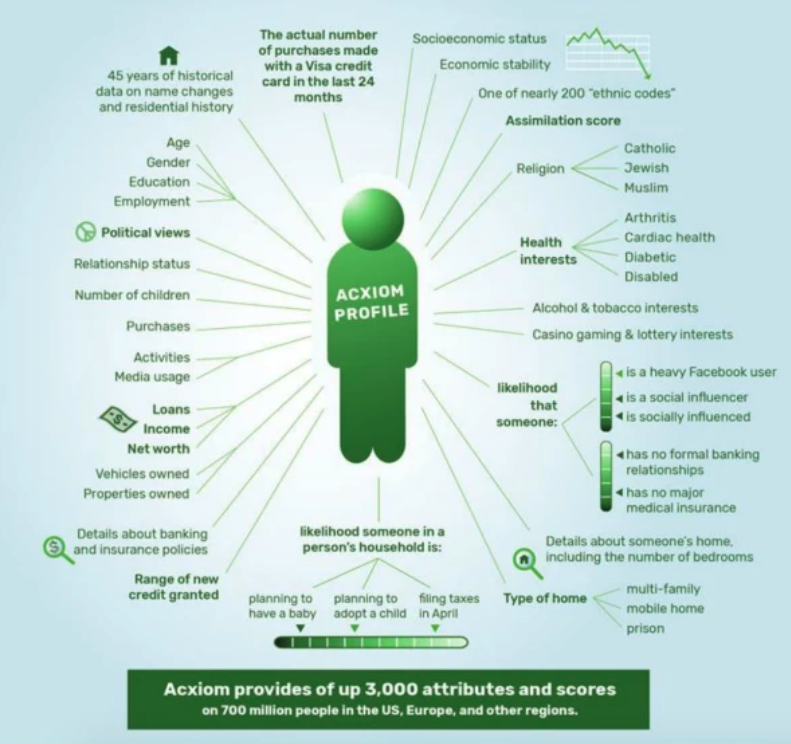 In reality, what Acxiom does is collect data from various sources and anonymize it. Then, they sell it to companies. These companies are mostly in the finance, retail, automotive, insurance, telecommunications, and government sectors. Recently, this company was sold to the Interpublic Group of Companies. Acxiom LLC allows owners to partially opt-out if they are uncomfortable with personal data collection.
Epsilon Data Management LLC
Apart from being one of the world's biggest data management companies, Epsilon is also one of the largest data brokers. They're a company that provides data solutions to businesses worldwide. One aspect of this involves a consumer database consisting of details from millions of households.
This data can serve to predict consumer behavior. Epsilon is constantly curating more information. However, for those that don't like the idea of their data being gathered, they can opt-out altogether.
Data opt out here. Estimated time: 20 minutes.
Oracle America, Inc.
The above name is also known as Oracle Data Cloud. Oracle is a giant in the world of global technology. In the past decade alone, they've acquired more than a few third-party data brokers. They've also built up a massive database of consumer information. Oracle has integrated its database into a full-service digital marketing platform. It's reach really is quite astounding — especially for a company that's managed to stay out of the public eye!
Equifax Information Services LLC
Equifax is a well-known corporation among American citizens. The company has been around since the 1930s. It's one of the three largest consumer credit reporting agencies alongside Experian and TransUnion. Though Equifax is a household name within North America, it's also one of the largest data brokers.
Equifax collects a large amount of identifying and financial data on individuals and businesses. This information is used to help businesses advertise more effectively. It is also used to help people decide whether a person or company is worth investing in.
Opting out of Equifax isn't easy. It takes so many steps and it's incredibly frustrating. Start with credit card offers and marketing emails.
Experian LLC
Experian is based in Dublin, but a lot of its operations and sales come from North America. This company offers several products. However, almost all products are centered around marketing based on people's information.
It maintains a database of information on around 800 million people and 99 million businesses. Like Equifax, its databases are used for both marketing and decision-making purposes.
Opting out of Experian is also annoying. Here's the general opt out and the one for pre-approved offers.
CoreLogic
CoreLogic is a California-based company that deals with collecting, analyzing, and selling consumer information. CoreLogic provides information in many areas. From spending habits to financial data, to property records and information, they have it.
This information is used to provide data solutions for companies. It is also used to screen tenants for real estate companies or landlords. All this is done with the help of artificial intelligence and a complicated series of algorithms. As one of the largest data brokers, CoreLogic also profits from the sale of wholesale background information. Data owners can also choose to opt-out here as well.
Option to automatically opt out of these major data brokers
And those are the largest data brokers in the USA. If you live here, your information is probably in many of these companies' databases!
The good news is that you can opt out and not have your data collected anymore.
Warning: This can be a long and boring process, taking hours just to remove yourself from a few sites. That's why we created Privacy Bee, a data privacy suite that specializes in personal information removal. 
By automatically scanning all of these sites, we are able to capture, organize, and display to you exactly what sites have your information posted. After showing you which sites have your information, we are able to automatically begin opting-out of ALL major data brokers in the USA on your behalf.
Get a FREE Privacy Risk Scan today!
---
The largest data brokers know everything about you — but you can opt out if you want! Privacy Bee can help you delete your personal information from the internet! Click to sign up for privacy protection.