---
If your identity is stolen, you're not alone. It's happening to more people every year. Here's what to do if your identity is stolen.
---
Data breaches (and thus identity theft) seem to be happening more frequently these days. Unfortunately, these cybersecurity issues keep causing losses in millions, if not billions, of dollars every year. And it can be very confusing to know what to do if your identity is stolen.
Despite all the American government's efforts alongside private cyber-security agencies to curb identity theft, things haven't exactly been perfect. Scammers and hackers still find ways to add "stolen identity" to their list of achievements thereby robbing innocent citizens.
As such, it's incredibly important for you to learn about identity theft protection. That way, you can know exactly how to check if your data has been breached and what to do if/when you have to report identity theft.

Here's what to do if your identity has been stolen
Being a victim of identity theft can be a very tough experience. In situations like this, after noticing one of the signs of identity theft, you have to know how to report identity theft. It requires acting fast if you wish to minimize the damage and loss that hackers and scammers can cause.
If you intend on getting into identity theft protection for yourself, here are the steps to follow:
1. Notify the affected companies
Many signs act as an indicator that you've been a victim of identity theft. As soon as you notice any of them, notify the companies that are involved. If, for example, it is your credit that's been affected, call the credit company immediately.
This will help them to realize that you may become a victim of criminal activities. Afterward, they can offer you some means of identity theft protection to mitigate any damages that may come up.
2. Contact the FTC to file a report
One of the duties of the FTC is to compile information that relates to identity theft. So, after realizing you're a victim of a stolen identity, file a report with the FTC. They can't pursue criminal charges. However, they can give law enforcement agencies information on your behalf. Alongside that, they'll give you a recovery plan and letters you can use for your police reports
3. Contact the police
As you probably already know, anyone using a stolen identity is committing an offense that is punishable by the law. So, as soon as you file the report with the FTC, the next thing to do is to contact the police and file a report with them.
Unlike the FTC, they have the full authority to help you bring the perpetrators to justice directly. Unfortunately, they may not be able to help if your identity theft is from an international criminal. However, with the police report, you'll get from them, you can quickly clear your name.
4. Put a fraud alert on your credit reports
Having contacted the police, you now have to get in touch with Experian, Equifax, and TransUnion. They are the three primary credit bureaus in the United States.
When you contact them for issues of this nature, they'll help you put a fraud alert on your credit report. This alert will be visible for a year. That way, any institution accessing your credit report will know you may have issues with a stolen identity.
5. Freeze your credit
Now that you've gone through the part where you report identity theft, the next thing to do is to freeze your credit. It will prevent anyone from accessing your credit report. This protects your identity from continuing to be abused. You can do it by contacting the Big Three credit bureaus separately.

6. Get a credit monitoring service
A credit monitoring service helps you to keep an eye on your credit reports. They usually make their offers to you after you've had to report identity theft. However, if no company makes you an offer, you should still make an effort to find one yourself and register with them.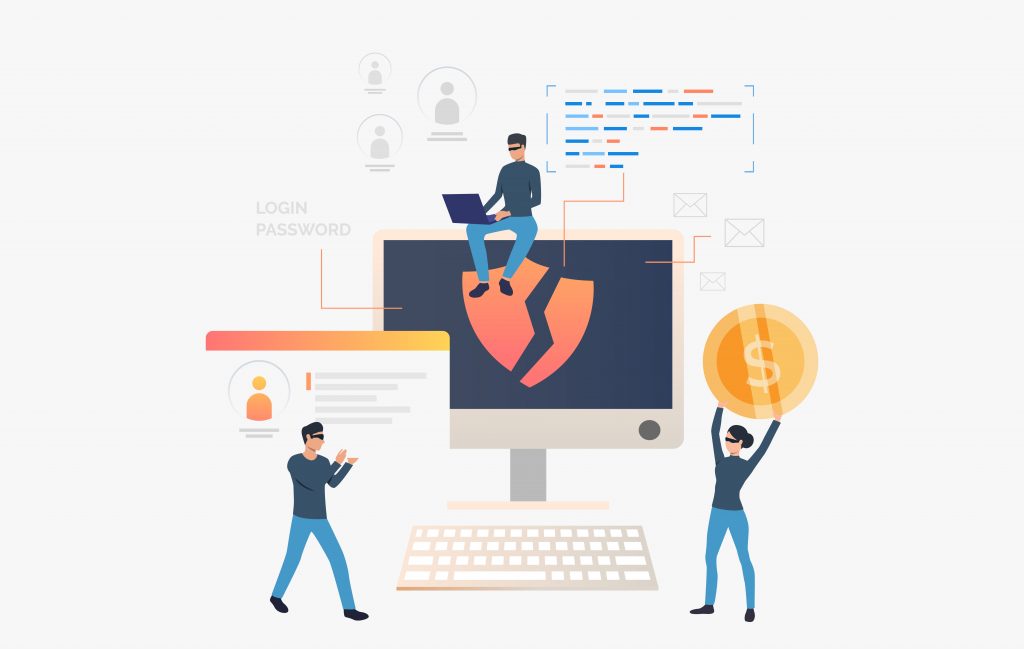 7. Tighten security on your accounts
If you're the type of person who uses the same password for everything, you might want to review your identity theft protection tactics. Why? As soon as a hacker can figure out the password to one of your accounts, they can access everything.
So, tighten your security so that you don't fall victim to identity theft again. Alongside your password, you should make sure you refrain from clicking suspicious links. Also, you should enable two-factor authentication whenever you have the chance.
8. Review your credit reports
You've come a long way, but you're still not entirely out of the woods yet. You need to periodically check your credit reports to see if there are any strange accounts. Every year, you're allowed to request one review from each of the major credit agencies.
9. Lock any accounts causing unauthorized charges on your account
After completing your review, the final step is to look through your bank statement. If you see any accounts charging you without your authorization, call the bank and request that they lock it.
---
Identity theft protection is a big deal, and you should take it as seriously as you would anything else. Following what we've outlined in this article is a step in the right direction if you've had your identity stolen. In the future, practice good digital hygiene, such as keeping yourself safe on public WiFi. Act fast!