---
It's hard to feel safe online and offline. There's little privacy with so much collecting and selling of personal information. The best privacy apps for iOS make that digital life a bit more secure.
---
The best privacy apps for iOS protect your personal data and make you less vulnerable to data breaches. And since Apple has committed to being a privacy-forward company, it makes a lot of sense to look for privacy apps that can enhance your data protection by preventing device fingerprinting and protecting your privacy.
With that being said, it's hard to select the best privacy app since there are so many in the market. Some are even products of hackers, who create fake apps that appear to be privacy-related…but actually exist to harvest your data!
Rather than leave it up to chance, level up your data privacy with our list of the best privacy apps for iOS.
The 7 best privacy apps for iOS
Secret Photo Vault- Keepsafe
Secret Photo Vault makes sure that all of your photos stay safe and secure. The app stores sensitive images in a password-protected file.  It also locks down videos and saves phone space.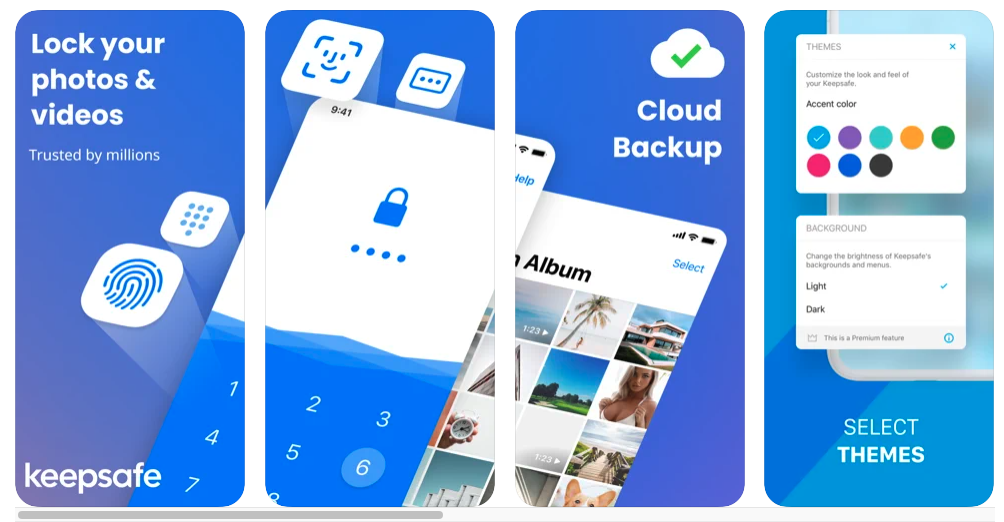 It features a beautiful design and simple interface that makes it easy to upload, organize, and view photos and videos. Keepsafe is also integrated with a camera that makes it easier to take photos directly in the app.
The app allows its customers to sync images and videos in Keepsafe to all their Keepsafe installation on any other device.
Pricing: Free with in-app purchases
Jumbo Privacy
Social media privacy settings can be tricky. Jumbo makes this task easier by ensuring you're not sharing more about your personal life than you have to. Also, it helps to lock down social media accounts.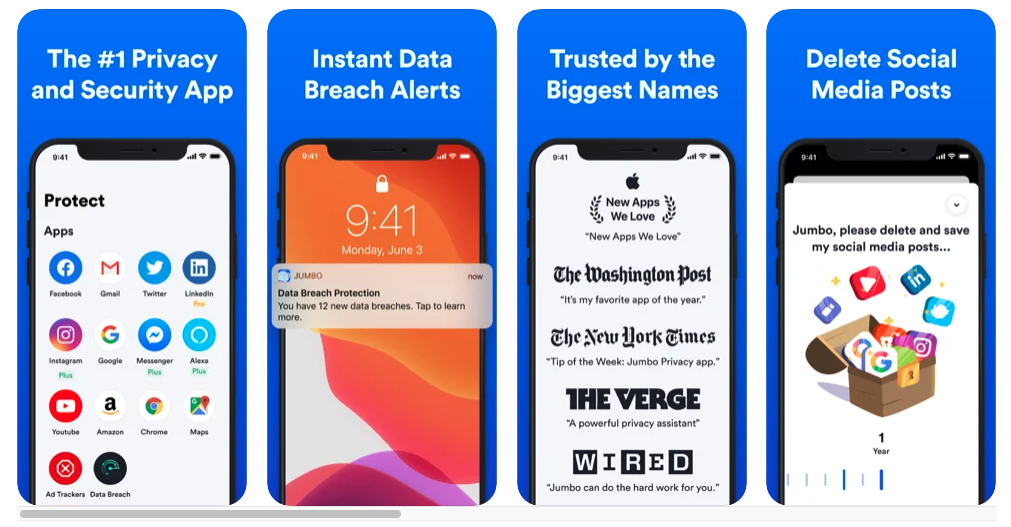 This app links directly to the user's online accounts to deliver several services, including erasing old tweets automatically, regulating ad personalization on Facebook, preventing Google from collecting personal information from the user, among others.
The only downside to using this app is that any data deleted or backed up by Jumbo is locked, and there's no way you can export or use the data in other apps. Youll always have to view that content in Jumbos Vault.
Pricing: Pay what you like
DuckDuckGo
Even though Safari is a much more privacy-minded browser than Google, go a step further with DuckDuckGo. It blocks all trackers and will never store any of your personal data. Once you download the app, be sure to set it as your primary web browser.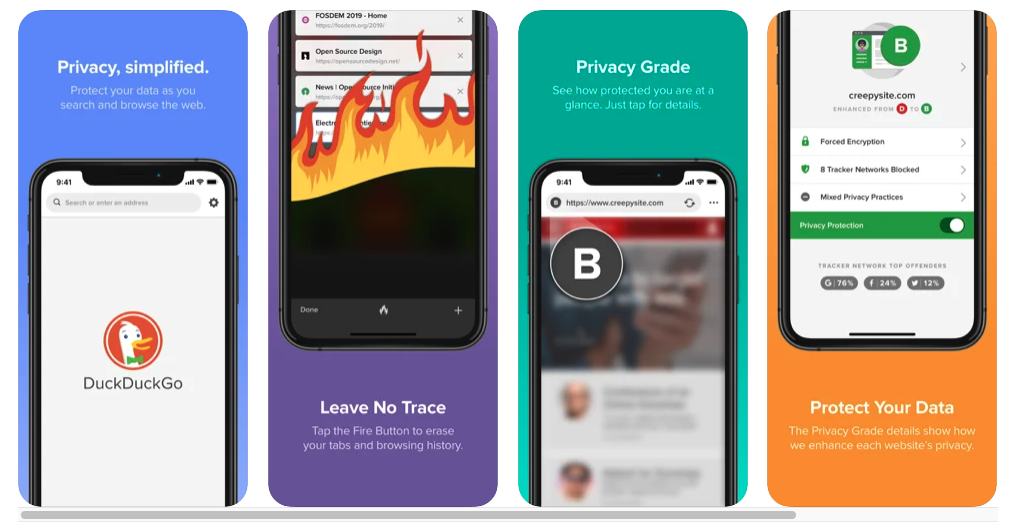 There are also three other great features: syncs your tabs with your computer, assigns a Privacy Grade as you browse the internet and deletes your browsing history with one tap of the fire button.
Pricing: Free
Ghostery
Ghostery is another great app to block trackers and make your browsing experience more private. Ghostery also has a browser extension to protect you from trackers while using the internet on your computer. By using both at the same time, dramatically reduce your data footprint.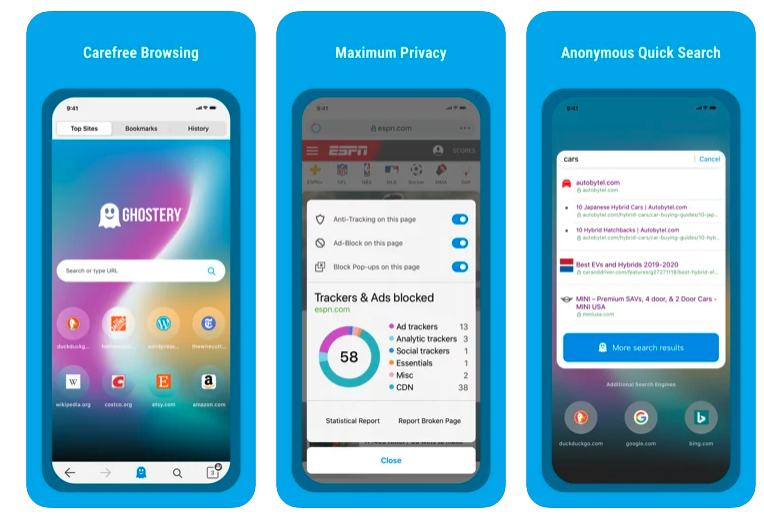 We also love the anonymous quick search function, which allows you to make an Internet search without any trackers whatsoever. It's an extra layer of protection that streamlines your privacy protection.
Pricing: Free
Guardian Firewall + VPN
A VPN shields your unique IP address from prying eyes and invasive trackers. The Guardian Firewall + VPN is a highly-rated option that can be turned on quickly. It also shows you all of the trackers on websites you visit so you can really understand the pervasiveness of the tracking industry.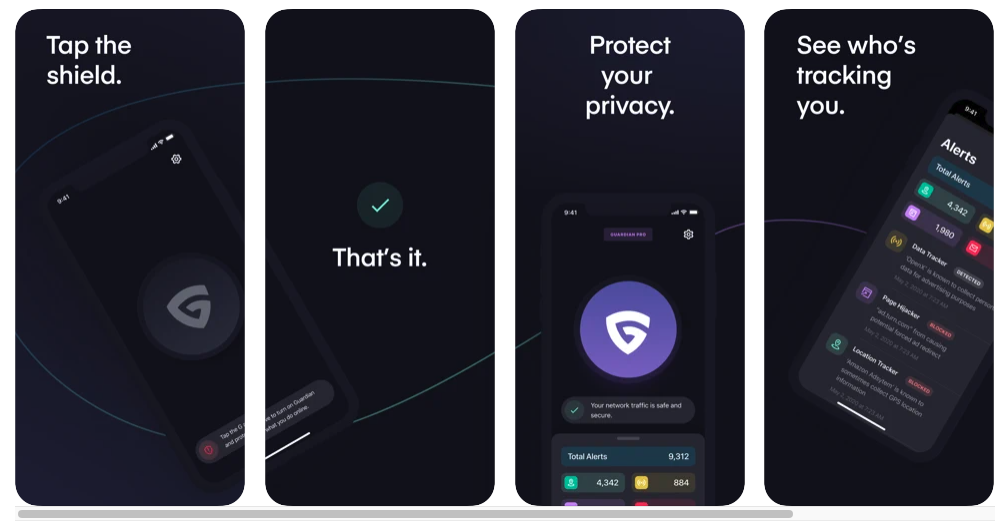 Keep in mind that a VPN is not for everyone. It can slightly slow your speed and is ideal for the most privacy-minded users. But, if you want to prevent device fingerprinting, a VPN is essential.
Pricing: Starts at $9.99 a month
Tor Onion Browser
The Tor Onion Browser is the most secure way to browse the web on your phone and prevent browser fingerprinting. Tor is a peer-to-peer network that routes your internet traffic through multiple nodes to mask its origins. Since traffic routes through random routes, Tor is the only fully protected way to browse the internet.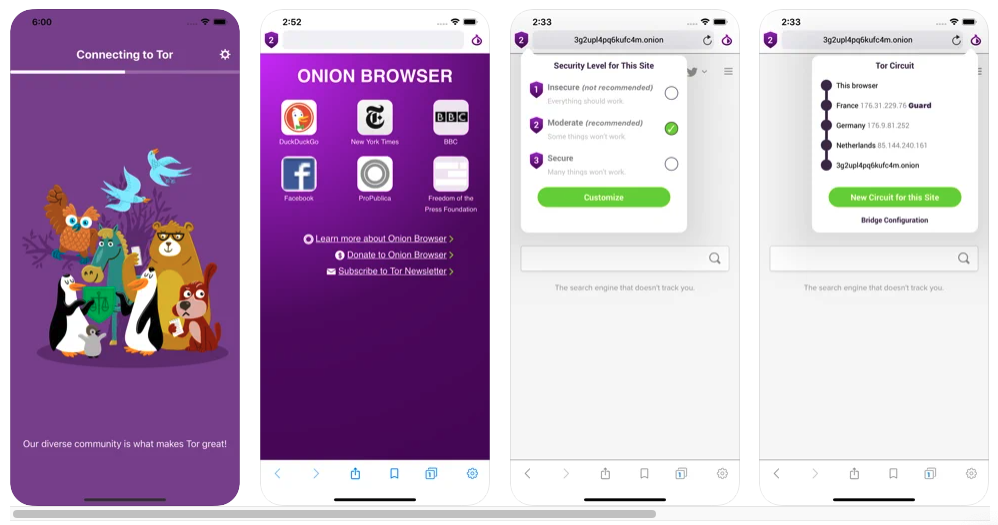 But there are some limitations. Since it pings different servers, your speeds may be slower than normal. Also, video streaming is not allowed, as it usually circumvents the Tor network and thus compromises your privacy.
Another killer feature: automatic deletion of cookies so that you don't have to remember to go in and get rid of those pesky trackers!
Pricing: Free with in-app purchases
Fing
Fing is network scanner that can identity issues with your home network. It can also protect your home Wi-Fi from unauthorized access, using its real-time scanning to tell you exactly who is on your network at any given moment.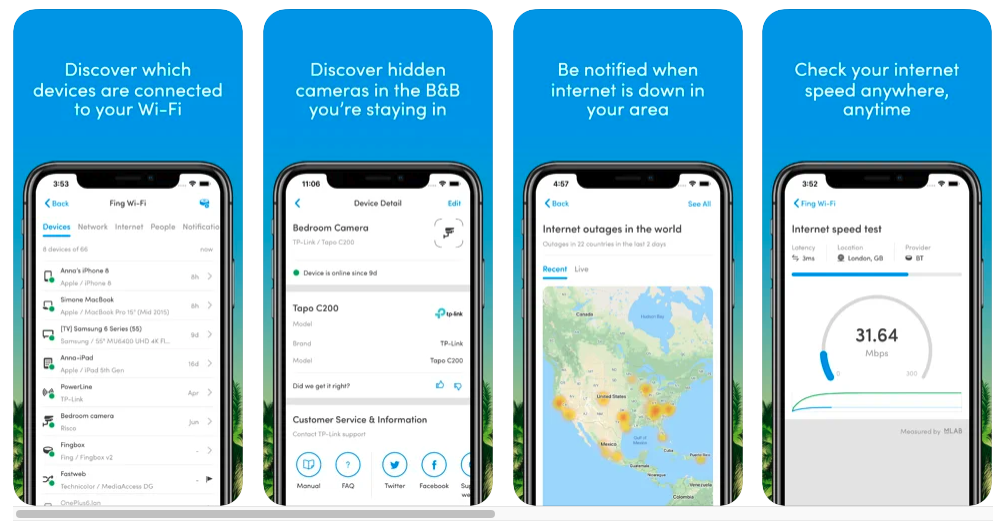 But its function doesn't end there. This app also checks web connection, warns about internet outages, tries to find concealed cameras in hotel rooms and even inform users about devices connecting to their network. This app is also easy to use and has no annoying adverts.
Pricing: Free with in-app purchases
Firefox Focus
Firefox Focus is a browser that works by blocking trackers and ads, leaving customers with a secure, fast, and untracked browsing experience.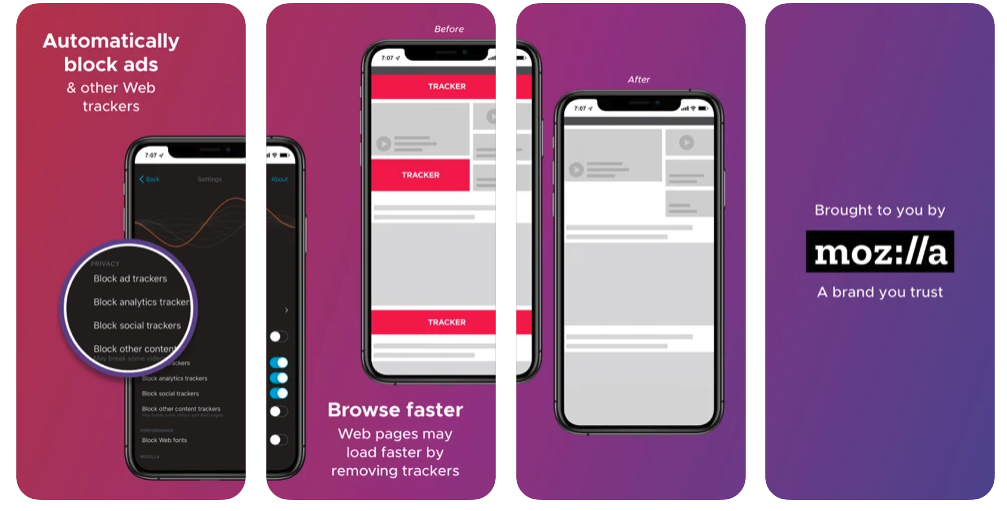 This browser comes with a big trash icon bin at the top side of the screen that allows users to delete all the stored passwords, site cookies, and browsing history in just one click. By clearing trackers and ads, web pages will require fewer data to load pages, and also they get to load faster.
What's even better, it's a product of Mozilla, a non-profit organization that believes everyone should have control of their online lives.
Pricing: Free
Orga
Orga is another amazing app for keeping photos secure. This app makes it hard for hackers to access an iPhone user's photos, preventing them from using them for scamming activities.
The genius behind Orga is its Nudity Detection AI, which will identify the most sensitive photos and store them securely from other public photos.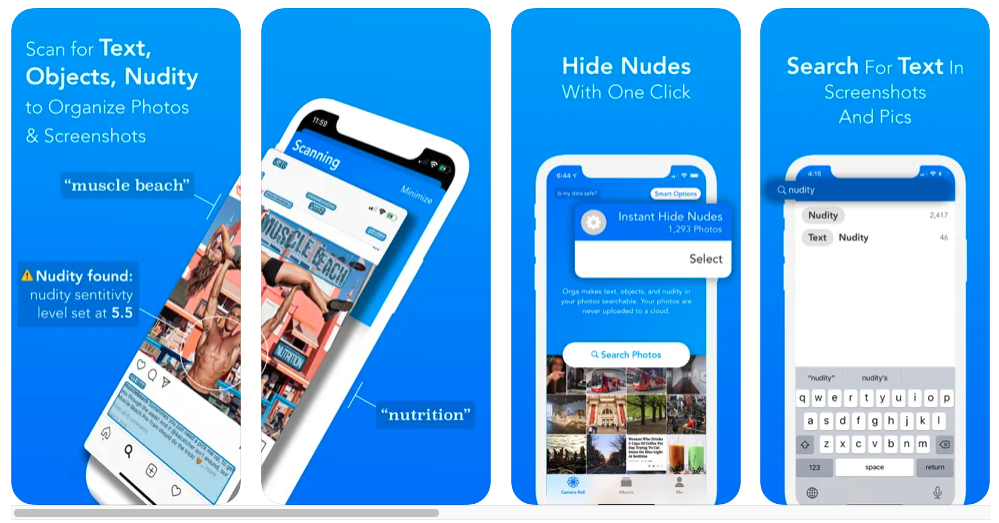 Other notable features of Orga include Offline Support, Private and offline AI, Optical Character Recognition, and Encrypts images and keeps all metadata.
Pricing: Free with in-app purchases
McAfee Security App
McAfee Security App is great at protecting iOS devices and protecting user's online data. McAfee comes with premium privacy features like Find Phone and Wi-Fi Guard.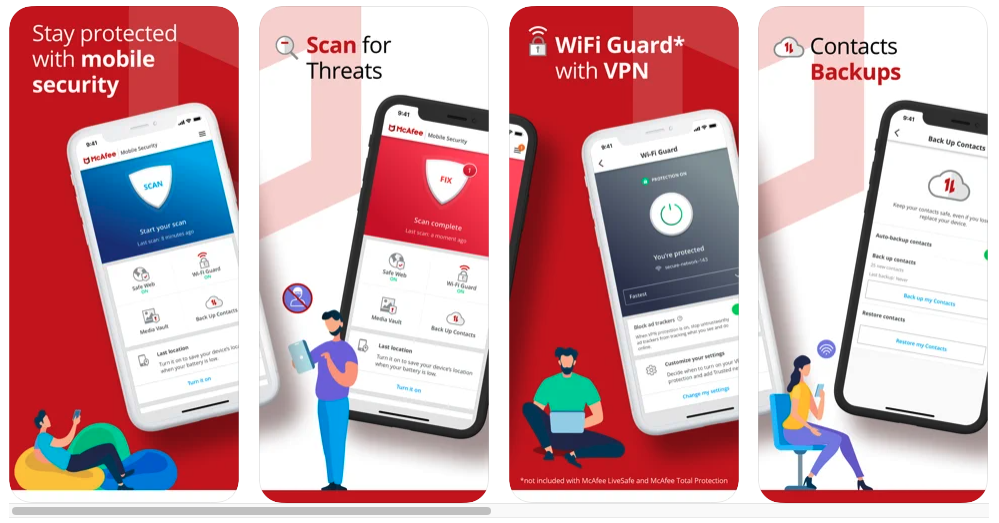 McAfee also strengthens your security via Secure Wi-Fi Scan, System Security Scan, Anti-Theft Protection, Contacts Backup, and Media Vault. We especially like the Wi-Fi Scanner, which monitors networks for any risk.
Pricing: Free with in-app purchases
Other ways to protect your privacy and personal data
As you evaluate privacy apps, you may also want to do a few other things to reduce your data footprint and keep your personal data safe:
Delete your personal data from corporate databases
Monitor the latest data breaches
Delete yourself from the largest data brokers
Download a password management app
Set up "Find My Device" so you can delete your phone if it gets stolen